Aboriginal Employment Strategy (AES) is a national Aboriginal recruitment and group training company that empowers Indigenous people through brokering employment opportunities and supporting our candidates to have successful careers through mentoring, coaching, training and specialist support.
100% First Nations governed and with a workforce that consists of 95% Aboriginal staff AES delivers its services via 16 regional offices.
The strength of our approach is more than just jobs. We are social entrepreneurs that build skills, capabilities and understandings in communities that deliver tangible economic and social benefits to Aboriginal people and to the broader local community. We build strong relationships with employers and corporate Australia and with Aboriginal people, leaders and communities to secure opportunities that deliver economic independence and self-determination for Aboriginal people.
Over the last 25 years, AES has led a transformative, social and economic movement that has been highly successful in changing the narratives in our communities to one of excellence, opportunity, partnerships and deadliness!
Some exciting numbers to demonstrate AES' social impact and the shared value generated through servicing indigenous Australians and our employment partners:
The AES has created 25,000 career opportunities and counting
2,500 traineeships and apprenticeships
Having a 68% national retention rate for mob staying in their job
Working with 550 employers nationally in the corporate, government and NFP/community sectors
65% of our AES managers are Aboriginal women
For every $1 of government funding the AES deliver $4.50 of economic value to society
Read the full AES Story of Impact here.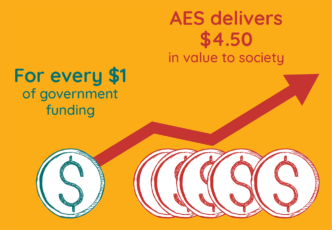 The AES vision:
A Career Opportunity for every Indigenous Australian
…and our company values respect, integrity, high performance, partnerships, trust and quality service.
Donate Today
By donating to the Aboriginal Employment Strategy you support us in delivering and improving our services to Indigenous Australians, their families and communities.
The Aboriginal Employment Strategy is endorsed as a deductible gift recipient by the Australian Tax Office and authorized to fundraise for charitable purposes by NSW Fair Trading.
Donations of $2 or more are tax deductible.
AES is Supply Nation registered and charity/not-for-profit.