2022 Deadly Dinner
Sofitel Darling Harbour, Sydney – 7 December 2022
Thank you to all that joined us at the Deadly Dinner in recognition of our 25th year, and the success of our 2021/2022 graduates, for a night of celebration of First Nations courage, resilience, pride and success.
We are proud to have been leading the way in Aboriginal employment for 25 years and to mark this important milestone, we are combining our yearly graduation event with a national celebration of First Nations employment and empowerment – The Deadly Dinner.
Since our inception, AES had led a transformative, social and economic movement that has been highly successful in changing the narratives in our communities to one of excellence, opportunity, partnerships and deadliness.
Event details
Date: Wednesday, 7 December 2022
Location: Sofitel Darling Harbour, Sydney
Time: 6.15pm til 10pm
Hosts: AES Alumni Bianca Hunt and Tyrone Pynor
Performances: Microwave Jenny and a surprise headline guest Isaiah Firebrace
Sponsors
We'd like to thank our deadly sponsors, without which the Deadly Dinner celebration wouldn't be possible.
We Deadly Sponsors (Silver)
Be Deadly Sponsors (Bronze)
Altus

Lend Lease

Grove Juice

AHMRC

Telstra

Department of Agriculture, Fisheries and Forestry

Scentre Group

Apprenticeship Support Australia

Cotton Australia and Cotton Research and Development Centre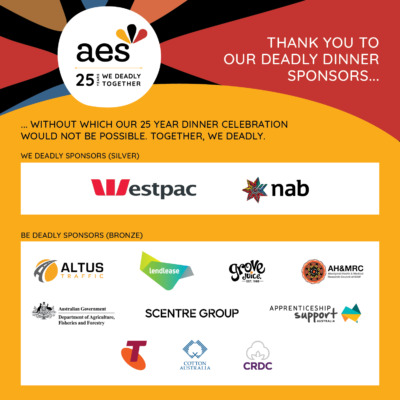 Congratulations AES trainee graduating class 2022
We would like to congratulate the largest cohort of AES Traineeship Program graduates. 63 First Nations trainees from urban, regional, rural, and remote locations graduated as part of the class of 2021-2022.
The successful traineeship program provides coaching and mentoring as well as an industry recognised qualification with hands-on work experience through host employers across a range of sectors and industries.
"It was so deadly to see our largest ever cohort of trainees recognised on the main stage at the Deadly Dinner in front of many of our amazing sponsor organisations and community members. They are the next generation of leaders showing the determination needed to complete their study and achieve their goals," said Kristy Masella, AES Managing Director.
More than 20 of our trainees where able to attend the Deadly Dinner and receive their certificate on the main stage in front of their host employers, AES alumni and the broader community.
Among one of those graduating trainees was Kamilaroi mother Brooklyn Allan is among the latest AES trainees to graduate, having recently completed her traineeship at Homes North Community Housing while studying a Certificate III in business. Since completing her traineeship Brooklyn has gained successful employment, now working fulltime as a Client Relations officer at Homes North helping the Tamworth local community.